The Difference is Hair 2018
United Bank of Iowa Employees Donate to Local Cancer Centers
The employees of United Bank of Iowa recently donated funds to four area cancer centers for cancer caregiver expenses. A total of $6,195 was distributed to the June E. Nylen Cancer Center in Sioux City, St. Anthony Foundation in Carroll, Buena Vista Regional Medical Center AWARE in Storm Lake, and Trinity Cancer Center in Fort Dodge.
Owen Bolte, President & CEO, stated, "In our positions,we see the impact that cancer has on individuals and their families. I'm proud of how our UBI staff, along with some family and friends, stepped up to support this worthwhile cause".
The employee initiative, creatively called "The Difference is Hair", a play on the bank's tagline "The Difference is Here", gave employees two options to participate. Employees could be a "hair grower"and not shave during the month of November or sponsor an employee, family member, or friend who was not shaving. Each participant donation was increased with a matching gift from UBI.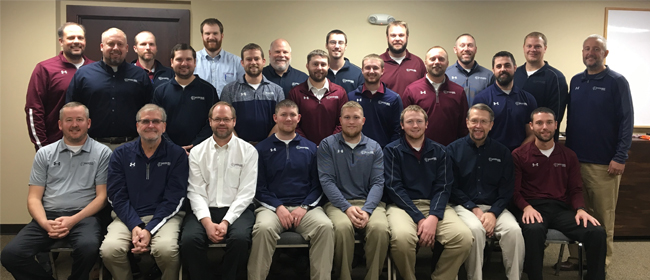 Pictured above are employees who participated as "Hair Growers"
Front Row: Bart Thoreson, Owen Bolte, Craig Moritz, Caleb Schroeder, Tyler Roberts, Alec Schneider, Joe Cutshall, Andy Hunziker
Middle Row: Jim Friel, Brock Boyle, Jake Schaben, Chet Verschoor, Austin Steinkamp, Lee Schoof, Shawn Doran, Todd Schultz
Back Row: Kiley Todd, Jay Lally, Adam Dreeszen, Alan Weiss, Will Riley, Eric Happe, Jake Schable, Brent Rohlk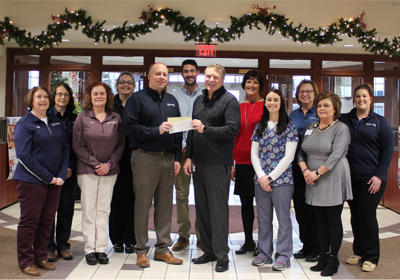 Donation to St. Anthony Foundation in Carroll
Carroll and Glidden employees pictured are Sue Freml, Pamela Killpack, Cindy Baumhover, Jenny Pryor, Jim Friel, TJ Pauley, Joyce Brincks, Sheryl Zimmerman, and Abby Ketelsen. Representing the St. Anthony Foundation are Dr. Randal Hess – Radiation Oncologist, Trish Roberts – Development Director, and Katie Nelson – RN-OCN.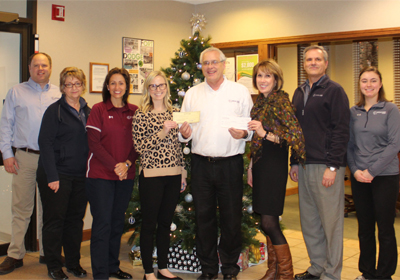 Donation to Trinity Cancer Center in Fort Dodge
Fort Dodge employees pictured are Brian Ricklefs, Kathleen Meldrem, Shaunna Abrams, Mike Biedenfeld, Kerry Viken, and Carmen Geis. Representing the Trinity Cancer Center are Christen Sewell – Trinity Cancer Center Manager and Carol Grannon – Senior Director of Development.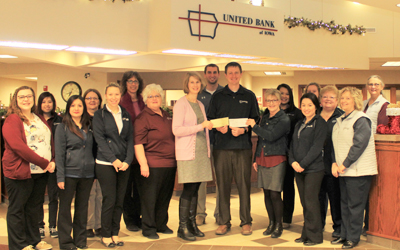 Donation to BVRMC AWARE in Storm Lake
Storm Lake employees pictured are Samantha Thompson, Leslie Gomez, Araceli Chairez, Jody Martinez, Brooke Groat, Carla Lindgren, Kellen Jacobson, Jacob Schable, Peun Sihachak-Khamdaeng, Stephanie Robbins, Ashlynn Blenner, Debra Dirks, Julie Hahn, and Karen Koch. Representing BVRMC Aware are Coleen Smming, Katie Schwint, and Diane Porter.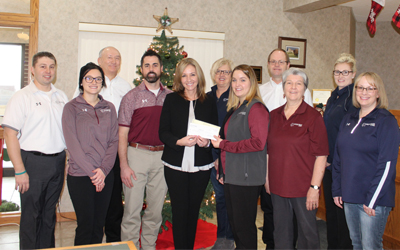 Donation to June E. Nylen Cancer Center in Sioux City
Moville, Kingsley, and Pierson employees pictured are Chet Verschoor, Makayla Bruhn, Steve Rippke, Shawn Doran, Shirley Thompson, Brittany Boyle, Craig Moritz, Jeannie Krueger, Taylor Fisher, and Jill Bobolz. Representing the June E. Nylen Cancer Center is Krista McCollough – Interim Director.