United Bank of Iowa Employees Donate to Local Cancer Centers
The employees of United Bank of Iowa recently donated funds to four area cancer centers for cancer caregiver expenses. A total of $7,284 was distributed to the June E. Nylen Cancer Center in Sioux City, St. Anthony Foundation in Carroll, Buena Vista Regional Medical Center AWARE in Storm Lake,and Trinity Cancer Center in Fort Dodge.
Owen Bolte, President & CEO, stated, "In our positions,we see the impact that cancer has on individuals and their families. I'm proud of how our UBI staff, along with some family and friends, stepped up to support this worthwhile cause".
The employee initiative, creatively called "The Difference is Hair", a play on the bank's tagline "The Difference is Here", gave employees two options to participate. Employees could be a "hair grower"and not shave during the month of November or sponsor an employee, family member, or friend who was not shaving. Each participant donation was increased with a matching gift from UBI.

Pictured above are employees who participated as "Hair Growers"
Front Row: Logan Patterson, Jim Friel, Al Weiss, Bart Thoreson, Adam Struck, Shawn Doran, Caleb Schroeder
Middle Row: Troy Whipkey, Brock Boyle, Matt Hugerich, Lee Schoof, Dylan Bogenrief, Jeff Freier, Joe Cutshall,
Derek Anderson, Marty Boyle 
Back Row: Kellen Jacobson, Owen Bolte, Jacob Schable, Will Riley, Jake Heuton,
Ken Blair, Adam Dreeszen, Todd Schultz, Dave McNamara, Kiley Todd
Not Pictured: Steve Mileham, Jeff Nelson, Jake Schaben, Jay Lally, Rich Bahls, Craig Moritz, Steve Rippke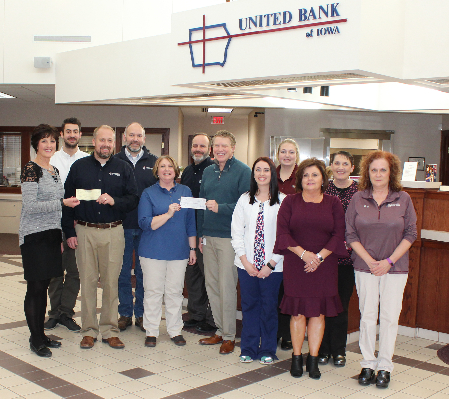 Donation to St. Anthony Foundation in Carroll
Carroll and Glidden employees pictured are TJ Pauley, Jim Friel, Dave McNamara, Sue Freml, Jeff Nelson, Jenny Pryor, and Cindy Baumhover. Representing the St. Anthony Foundation are Trish Roberts- Development Director, Dr. Randal Hess- Radiation Oncologist, Katie Nelson- RN, Sheryl Zimmerman- Radiation Oncology, Cheri Theulen- RN-OCN.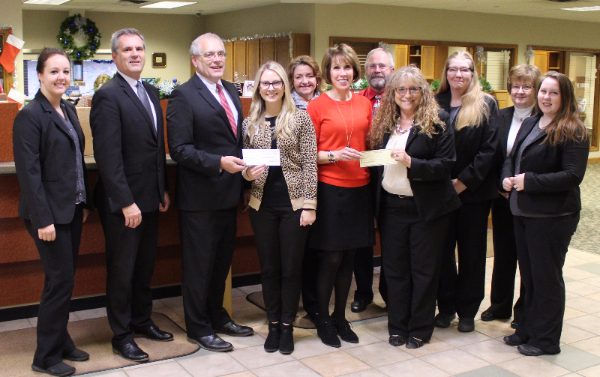 Donation to Trinity Cancer Center in Fort Dodge
Fort Dodge employees pictured are Abbey Oleson, Kerry Viken, Mike Biedenfeld, Kathleen Meldrem, Rich Bahls, Janice Carlson, Bette Habhab, Lynne Peterson, Amanda Lindstrom. Representing the Trinity Cancer Center are Christen Sewell and Carol Grannon.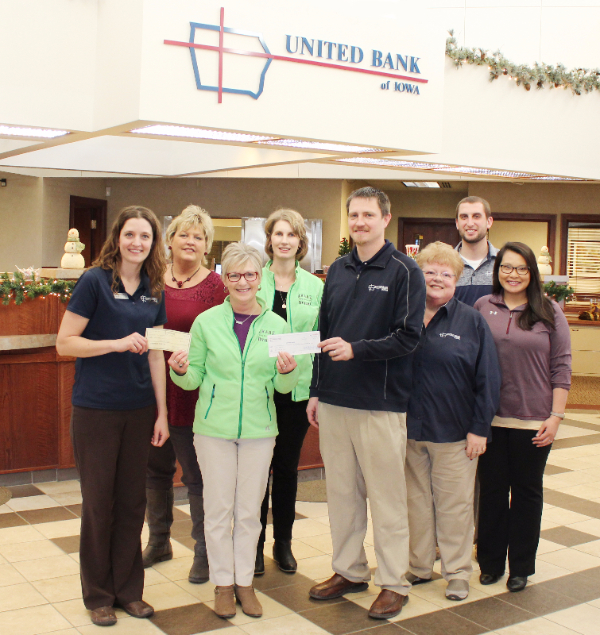 Donation to BVRMC AWARE in Storm Lake
Storm Lake employees pictured are Jessica Sechler, Jake Schable, Deb Dirks, Kellen Jacobson, and Peun Sihachak-Khamdaeng. Representing BVRMC AWARE are Zena Olerich, Katie Schwint, and Diane Porter.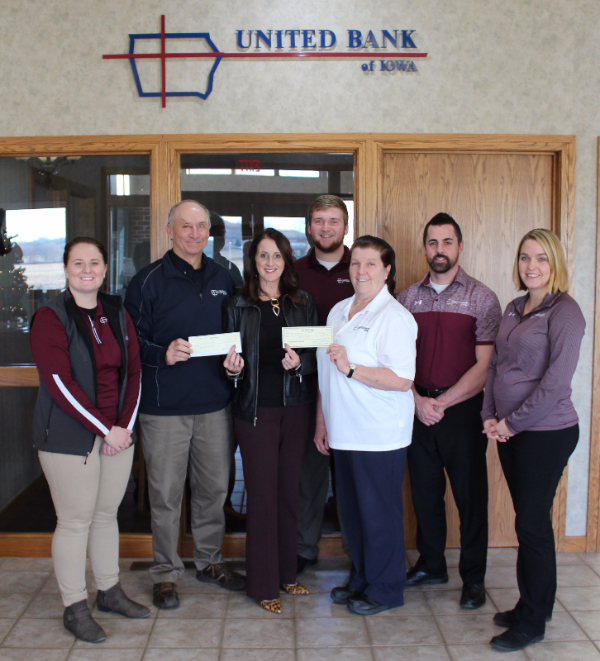 Donation to June E. Nylen Cancer Center in Sioux City
Moville and Kingsley employees pictured are Alissa Polkinghorn, Steve Rippke, Kurt Countryman, Jeannie Krueger, Shawn Doran, and Brittany Boyle. Representing the June E. Nylen Cancer Center is Tracy Feathers.