Team UBI "Ghostbusters" won first prize for costume at the Stewart Memorial Community Hospital's annual Trivia Night fundraiser. Trivia Night is the local hospital's major fundraising event. United Bank of Iowa in Lake City and Rockwell City sponsored a table for the event. It is not required, but it does add to the fun to come up with your own table theme, complete with costumes and a few table decorations. This year's event raised money to improve patient privacy in the waiting areas and to make patient restrooms and exam rooms handicap accessible in all of their clinics. The evening raised in excess of $60,000 through event sponsorship, ticket sales, and silent and live auctions.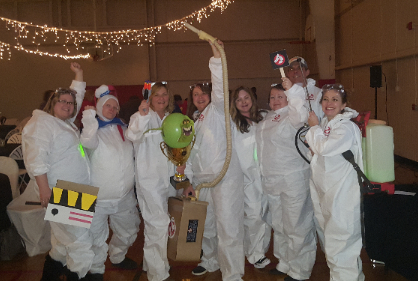 Pictured are UBI employees Jackie Schard, Sara Iler, Monita Kelly, and Faye Huster.
Other guests are Shelly Neubrand, Nancy Bruns, and Dallas and Eric Pullen.