LifeWorks Community Services - Fort Dodge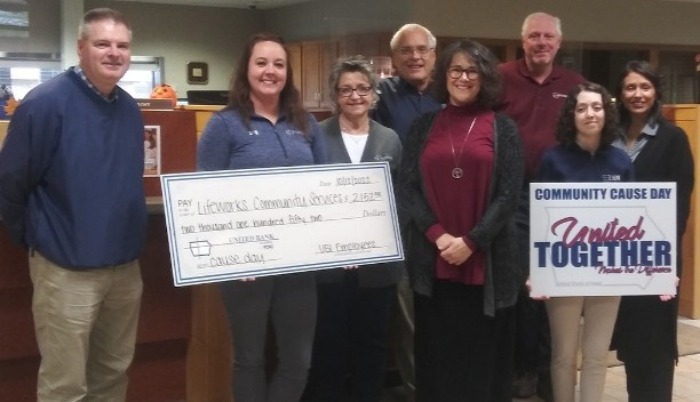 United Bank of Iowa recently donated $2,152 to LifeWorks Community Services, headquartered in Fort Dodge. They offer vocational, residential and community support services to individuals with mental, physical or developmental disabilities in the Fort Dodge and Humboldt areas. This money was raised during United Bank of Iowa's UNITED TOGETHER Makes the Difference Cause Day effort.
"LifeWorks is very grateful for this donation" indicated Teresa Naughton, Executive Director. "We plan to use the dollars in the Connections Program, which offers structure and training for individual with disabilities during the day. With the winter season approaching, the Connections program has identified items needed to help get through the cold and icy months. This is when community-based activities tend to slow down due to weather. Needed items include Wii equipment, two large televisions and a recumbent bike, and some replacement board games".
United Bank of Iowa employees presenting the check are Abbey Harvey, Kathleen Meldrem, Mike Biedenfeld, Bill Delaney, Devon France and Shaunna Abrams. Curt Duffield and Teresa Naughton from LifeWorks Community Services accepted the donation.