Check presented to OABCIG Dollars for Scholars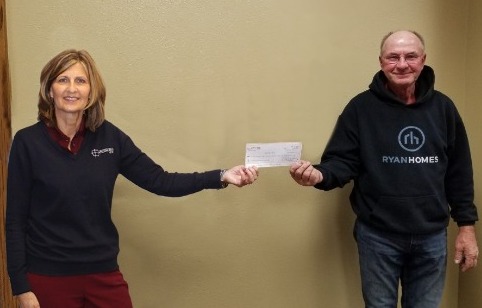 As sponsor of the Whitey Thompson Hike Bike-A-Thon, United Bank of Iowa is pleased to report the 2020 results: 335 students participated and $19,263.26 was received in donations. After expenses, proceeds of $15,880.51 were donated to OABCIG Dollars for Scholars. Although this amount is far from the $70,000+ normally donated, a fundraiser generating over $15,000 is still a great fundraiser, especially without an event for the kids. Due to COVID-19, Hike Bike was converted to an online fundraiser only and, for safety precautions, students did not get to gather to hike or bike. A BIG THANK YOU to the students who participated and all the parents, family, and friends for their generous donations.
On hand for the check presentation were Marcia Cates of United Bank of Iowa and Paul Neumann of OABCIG Dollars for Scholars.