PRESS RELEASE
Carol Bresnahan Joins UnitedBank of Iowa Board of Directors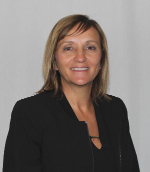 Owen C. Bolte, President and CEO of United Bank of Iowa, is pleased to announce the addition of Carol Bresnahan to the Board of Directors of United Bank of Iowa. Bresnahan was elected to the board during the annual stockholder meeting held on April 3, 2018.
Bolte commented, "We are excited to have someone with Carol's extensive bank experience and understanding of banking operations join our board. We also appreciate the insight and knowledge that Carol will bring to the board as the owner of a local business."
Carol started her banking career at United Bank of Iowa in July, 1994, and was promoted to Vice President Bookkeeping in February, 2010. In March, 2014, Carol transitioned to part time employment at UBI to take a more active role in the family business. Carol and her husband, Ron, reside in Ida Grove and have owned and operated Bresnahan Well Drilling and Repair, Inc. since 1993. Carol and Ron have two sons. Devin lives in Omaha, Nebraska, and Drew and his wife, Katie, and their daughter, Avery, live in West Des Moines.
Other members of the United Bank of Iowa board of directors include Owen Bolte, Alan Cumming, Dan Dotzler, Jack Eggspuehler, Sharon Godbersen, Larry Hultgren, Lance Moore, Curt Rupert, Kenneth Van Kekerix and Steve Vohs. 
United Bank of Iowa, wholly owned by the holding company, Ida Grove Bancshares, Inc., of Ida Grove, Iowa, has 27 offices serving rural west central Iowa and assets exceeding $1.5 billion.