"After 16 years, Jim is like a partner in my operation. Every time I want to buy something new or anything comes up, I call him to see what he thinks."
When asked about their relationship with UBI, David Ausberger replies, "United Bank of Iowa has always been there for me.
When land would come up for sale or when I needed to expand my equipment, UBI always makes it work for me. When I first came to United Bank of Iowa, Jim Friel told me that I could be successful and I just nodded my head and didn't believe him, turns out he was right. Jim always has the long term perspective in mind for my operation and is very encouraging towards me. We have a personal relationship, it's not just banking that you have with your lender."
"I love the service I get from United Bank of Iowa and you can't argue with the #1 Ag Bank."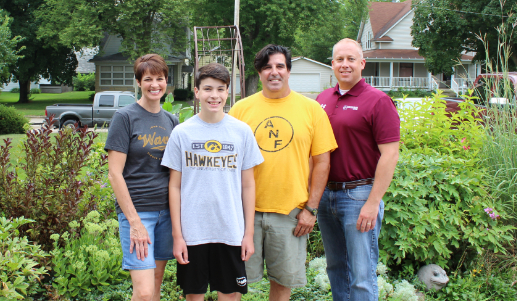 Pictured above: LeeAnna, Nathan, and David Ausberger and Jim Friel, lender from our Carroll office.