"United Bank of Iowa is very personable, they listen and make you feel valued."
Dan Gustafson, a customer of our Ida Grove office, had these comments to say about United Bank of Iowa, "I've been a lifetime customer, I opened my first account when I was 6 years old and continue to work with UBI to this day.
Over the years I have transitioned to working with Brock Boyle and the process was smooth and easy. Brock's involvement in the ag industry has made our conversations easier and knowing UBI understands ag makes it simple. Not only has Brock helped me expand my farming operation, he also helped expand our house to include additional living space for our growing family. It is reassuring to know you have a bank you can count on and that UBI will be there for anything I need, when competitors haven't."
He continued, "UBI has outstanding customer service and great communication and for that reason I would tell anyone to bank at United Bank of Iowa. They add value to your transactions and are willing to help find what works best for you and your current situation."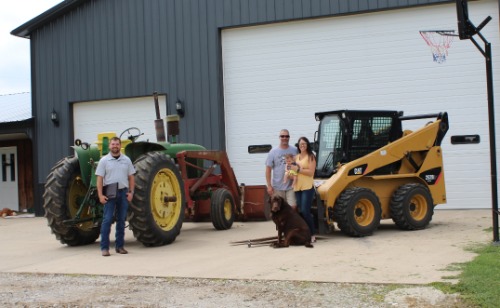 Pictured above: Brock Boyle, lender from our Ida Grove office, with Dan and Jenna Gustafson.